Have you ever watched those behind the scenes videos of a cast & crew wrapping up their last day of filming? Ya know what I'm talking about…. the ones where the director says "That's a Wrap!" and all the actors and actresses are hugging, and the crew members are cheering, and tears are being shed, and everyone's smiling because this long running show has come to an end, and they can pat themselves on the back for a job well done? It looks a little like this: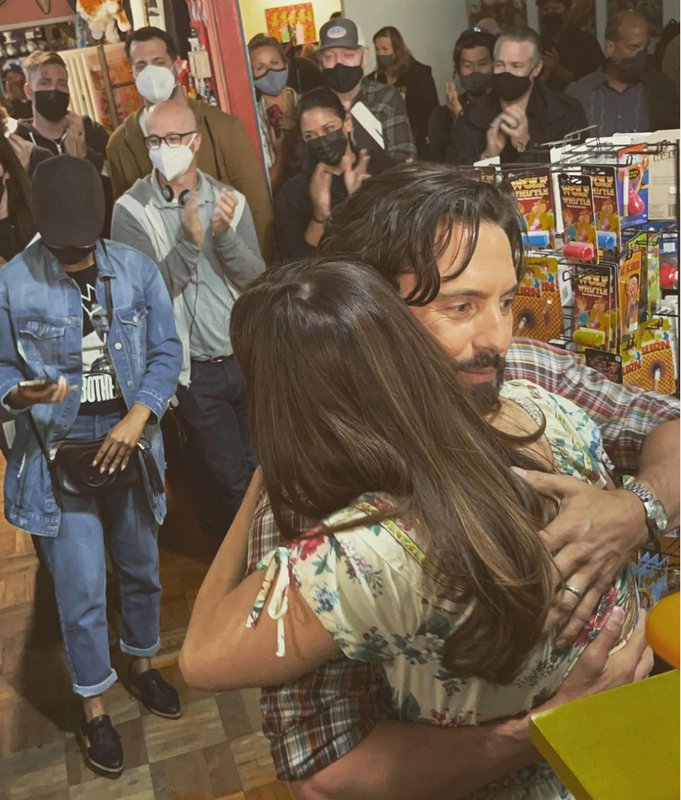 Anyway, I'm a sucker for those BTS videos. I'm not sure why. I think it's something about just knowing that everyone put in so many hours, and the whole cast and crew became like family while working on that show together. And occasionally, part of me wishes it were me there having those feelings of pride and bittersweet celebration, cause it just looks like a good time. A good thing to be a part of.
It reminds me of my community theatre days… when we would have "wrap parties" to celebrate the end of a show run. They typically consisted of a few speeches or toasts, some time to reminisce with the people you just worked with for months, some good food, and sometimes little gifts from the director for the cast and crew. And the same feelings of pride and camaraderie are evoked. Similar to the ones I felt at my high school graduation, six years ago yesterday.
13 years of hard work had paid off. My parents and grandparents were there and were SO proud of me. My fellow classmates were there to share in that accomplishment. We could say that we did that together and that we would always be Northwest Rankin alums.
But none of this mixture of good feelings can compare to the ones I know I'll feel on the day that Jesus comes back. I just want to make it to that wrap party. Ya know what I'm talking about… the one where my Heavenly Father says "well done, good and faithful servant," (Matt. 3:17; Matt. 25:23) because He's proud I achieved the ultimate goal. The one where we get to celebrate, together as God's family, His grace and what He was able to do for us. (Eph. 3:20-21; 1 Peter 1:8-9) Now, THAT'S the wrap party I'm most looking forward to.
And while I eagerly await that Day to get here, I know that the party has already started. Instead of saying "It is finished," (John 19:30) Jesus might as well have said "That's a wrap!" And with that, comes a peace that transcends all understanding that is oh so powerful. So keep the faith; we've got something to look forward to, and don't you forget it! I'm so glad it is God who is the showrunner in this thing called life.